Simplify how you Connect, Manage,
and Monetize IoT and M2M Services
The Internet of Things (IoT) Growth Challenge!
Posted 11-29-2017 by RevX Systems
---
The Internet of Things (IoT) has brought opportunities to Verizon partners and resellers, but as deployments multiply, management and billing becomes complicated.
Verizon Partner Program (VPP) partners looking to increase margin as they install more devices and handle more accounts are suddenly left with the hassle of managing the subscriptions, licenses, billing and the headaches that come with them. To combat some of the challenges you face as you grow, we've joined with RevX Systems to simplify the way you connect, monetize, and manage your IoT devices and subscription services.
---
Stress-free device and subscription management
---
Using RevX, Verizon partners get access to a management solution that lets them handle all IoT and machine to machine (M2M) billing and subscription tasks in one place. From automated device and software provisioning to billing, credit card processing, reporting and more. RevX puts you on a fast path to more active devices and more profit, while minimizing the need for more office staff and home- built management solutions.
To read more click here.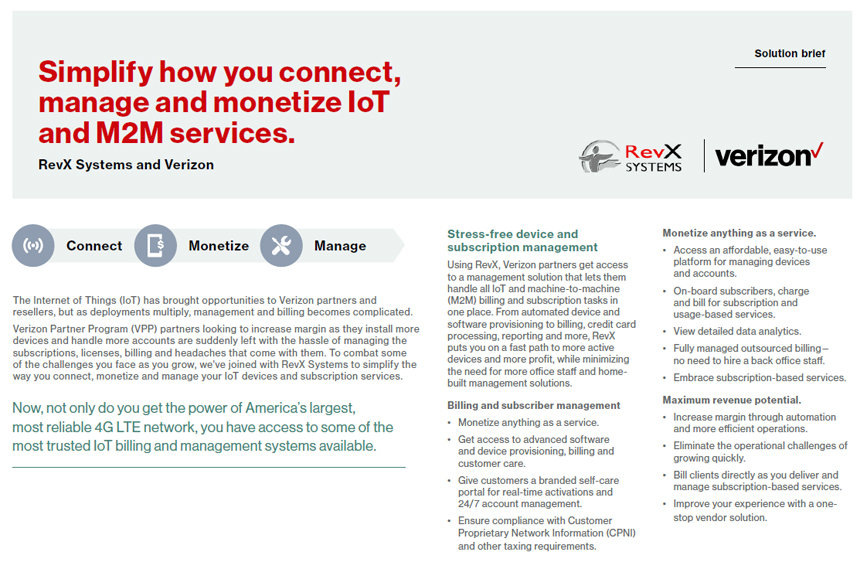 Have more questions? - (949) 200-7589